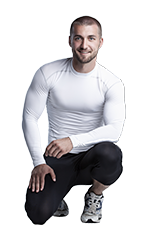 Runners' Knee - What Is It?
Runners' knee is also called ITB syndrome or pain on the outside of the knee (if you have pain at the front of the knee - click here).
Anybody who runs or even walks in there chosen activity can get Runners Knee but may also come from BMX, cycling, ice skating, rollerblading and other modern sports.
It should feel like a sharp pain that is located on the outside of the knee. Runners' knee is usually exacerbated by jogging or running type movements.
Although there are many management programmes for this condition including:
Stretching

Foam rolling

Icing

Massage
None of the above competes with Shock Wave Therapy Provides for speed, ease and quality of recovery. We have a particular protocol for this condition that is given to the patient after consultation to implement after 1st treatment. Shock Wave combined with this protocol works wonders in even the most severely affected.