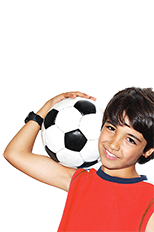 Severs disease - what is it?
Severs Disease is presented in the pre and early teens. Boys are the common suffer, although girls (generally dancers or jumpers) can be affected as well.
The classic presentation of pain in both heels is a common place occurrence; however, a single ankle can be effected in some.
The condition has its roots in overuse of the calf muscle but is complicated by pre-teen bone growth.
The Achilles' tendon/ heel cord pulls on the heel that is trying to grow. This repetitive yank on a semi-solid bone produces pain in the heel. This pain eventually ascends to the heel cord (Achilles tendon) and calf muscle.
WHAT CAN BE DONE
Until about ten years ago the only therapy was rest and tablets. However trying to tell a child not to move and to get them to pop pills is not typically easy or even ideal.
If you are reading this most likely, your child is not healing fast, or this approach is failing and is getting worse.
For these cases, we offer an acoustic wave therapy called ESWT.
ESWT are sound wave channelled into the heel for 1-2 minutes to vibrate the bone and increase the bone density of the heel.
Typically threes sessions using a CE marked BTL ESWT machine produces significate relief, most suffer report 80-99% pain relief within four weeks. The pain-free percentage often increases on its own as the body continues to respond after the treatments are over.
Next step is to bring your child in for a consultation to look at their foot health and see if they are a good candidate for the acoustic wave therapy option.