Shoulder Pain Treatment & ShockWave Therapy
Our new treatment for chronic shoulder pain shows more than it promises!
The story is that after 10 years of using our Radial devices we upgraded to the latest focused technology within the shock wave relm. And the shoulder is where tech comes into its own. While we used to get success with our radial shock wave unit the Focused has picked up the success rate in shoulders, specifically very sore shoulder patients and calcific shoulder treatment.
What is Shock Wave Treatment?
It's Sound Waves delivered Very Fast Speeds
Studies have shown that a Soundwave treatment called "Extracorporeal Shock Wave Therapy" can help a painful rotator cuff/ shoulder pain issue. Shock Wave Therapy waves drum the tissue that's injured to break up scar tissue or calcification with injured tendons.
Extracorporeal means the sound wave is created outside the body and channelled in. So the 'Extracorporeal' Shock Wave Therapy or ESWT involves applying high-energy or low-energy shock waves to the sensitive area -- in this case, the rotator cuff (muscles group that controls shoulder stability).
Types Of ESWT We Offer:
As we specialise in Shock wave therapy we have two units/generators the older type of Radial shock wave therapy and the NEW type of Focused shock wave therapy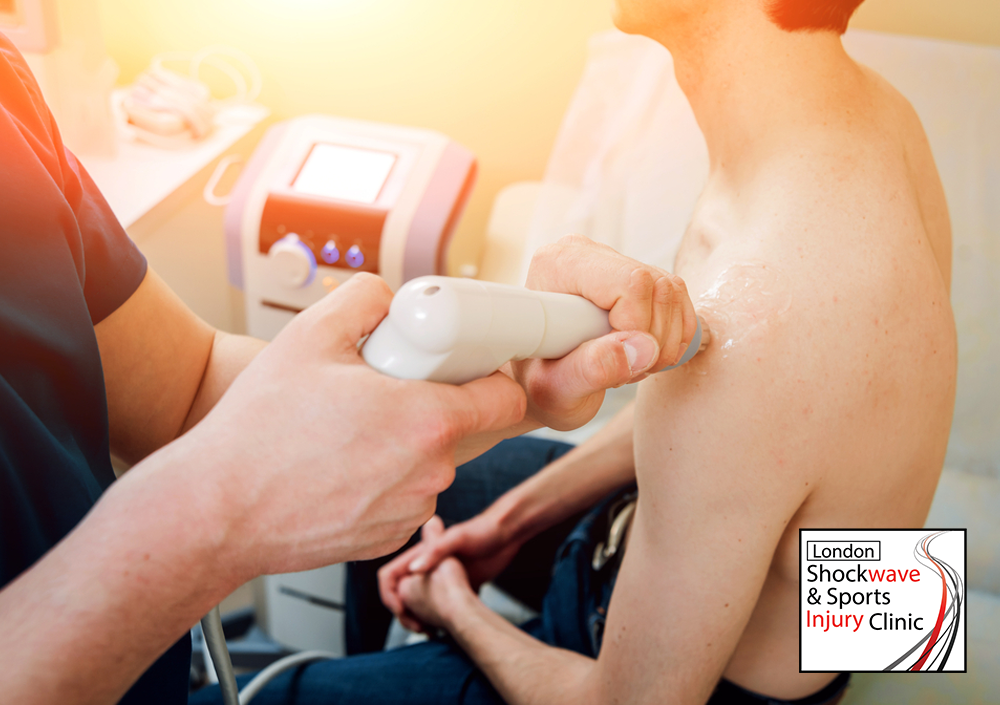 Calcified Tendonitis Of The Shoulder
The ability of the sound wave treatment to treat calcific tendonitis of the rotator cuff, a common cause of shoulder pain is incredible. The percentage of success is unbelievable huge when considering suffering from calcific tendonitis and previously had to have surgery. 
In this condition, calcium deposits build up on the tendons that connect shoulder muscles to the nearby bones and would be resistant to conventional physiotherapy. 
The shock wave treatment has been shown to promote reabsorption of calcified deposits. If your condition has been persistent, it is likely that you are suffering from calcific tendonitis. We can arrange a full analysis of the shoulder and also provide treatment to remedy this condition quickly.